Trip Report
RMP & FS to Lausanne & Montreux, Switzerland: June 27-30, 2023
The French Vladimir Nabokov Society hosted a conference at Lausanne University on Lake Geneva (Lac Leman) in Switzerland. The theme was "Writing Nature." I was invited a year ago, and accepted with pleasure, to give the closing keynote address. But then, given my illness over the winter, I didn't think it possible. With the host's encouragement, with Florence's proffered help, we decided that I might be able to make it. I'm so glad we did.
The outbound, on Saturday 6/24, went very well, if long, around 21 hours from Astoria to Lausanne, PDX-SEA-AMS-GEN. The Delta Airbus was actually fairly comfy, though we were seated two rows apart. I had an interested young cat vet to talk to, Florence a nice but silent Nigerian. Some of the food was even good. I had arranged for wheelchairs to meet every check-in and arrival. They were always there and very attentive, making it easy for me but harder for Florence, as she had to hustle all the way as the pushers zoomed along! Great way to cut lines ("juke the queue," as our new Scots friend Paul puts it Glaswegian), skip around TSA and Customs, etc. And always first on the plane. Two peculiarities were that in Amsterdam we had to go all through the regular security line with the wheelchair, and in Geneva, absolutely no one looked at our passports upon arrival.
Once in Geneva late on Sunday afternoon, with lots of airport helpers, we took the train from the airport up the lake to Lausanne, where we were met at the station by Professor Boris Vejdovsky, an extremely versatile, broadly experienced, and witty Czech polyglot who took charge of my care and feeding for the duration, guided by FS. He took us to our hotel, the Elite, a very old one in the old city above the lake and not far from a hotel where Mozart stayed. Our room was small but pleasant, with a Juliet balcony (as Florence called it) with a view of a woodsy garden right below and a sliver of the lake and Alps beyond. Fortunately, we'd planned a day to lie low and recover from the flight before things began. I rested at the hotel while Florence explored the upper city. Monday eve, all of the presenters met for a jolly dinner (duck for us) at a big Thai restaurant a block away, which got things off to a warm start.
The conference began on Tuesday, 6/27. Most folks reached the campus on the excellent Metro, but we were taken by taxi each day, in the care of either Boris or the brilliant young scholar from Normandy, Leopold Reigner, who speaks better English and knows more American culture than most people I know over here. (He had seen and enjoyed The Dark Divide.) They'd rented a folding wheelchair for me, and whenever needed on campus or in the city, it was right there with a happy pusher—delegates lined up to push me, from jeune filles to senior academics. I just sat back and enjoyed it, seldom having felt so cared for. After an evening reception at a city library, Boris pushed me all the way back to the hotel through the ancient city, up and down its seven hills and over bridges, my one chance to truly take in the city above ground; then dined and drank the good local wine with us. That was way beyond the call, and a great pleasure.
Some 75 or so participants from several countries, France to India to Ukraine and beyond, took part. Many worked at American universities. The papers, with simultaneous translation, all concerned Nabokov and his use and representation of nature in one way or another. Many were fascinating, though there were arid talks too, of course. Overall, it was one of the most stimulating conferences I've ever attended; I tried to keep my substantive comments and questions to a minimum, but popped in with a number of footnotes and explanatory, interpretive points in my role as Resident Lepidopterist, as few of the scholars knew much about the leps, and they are so critical to VN's corpus. Apparently that was appreciated, and I enjoyed participating in both the literary and scientific discussions and helping to bridge them, as one of the few people present with a foot in each realm. One of the others, a very bright New Yorker, was wedded to some odd (to me) ideas about evolution, such as mimicry evolving without benefit of natural selection. This drew a spirited challenge from me on the floor, and exchange, which turned out to be quite enjoyed by the audience, many of whom thanked me for weighing in; every conference needs some real disputation. (In subsequent correspondence, I have urged Victoria to get out and spend time among the butterflies, not just with her mathematical models.)
There were two field trips. The first was an afternoon boat excursion on Lac Leman to its head at Montreux, stopping at a couple of picturesque towns on the way, on an old lake steamer with a good bar. As we entered Montreux, the boat rounded the point where stands Chateau Chillon, my grandmother and great-aunt's favorite castle from their round-the-world trip in 1955-56. Montreux was hopping, putting up canopies for the famous jazz festival coming the next week. Our group was given special entrance to the Nabokov Suite in the grand Montreux Palace Hotel, where Vladimir and Vera lived for the decades of their life following the success of Lolita. I had tried to visit him here in 1976, but I was too late, as he was in his final illness in hospital, so it was very special to finally visit their rooms now, replete with many photos and artifacts of their lives. Brian Boyd, VN's biographer and chief scholar, lived here to curate their papers. To have him here to interpret it all for us (and share a beer on the boat) was golden.
The second field trip, on 6/29, was up into the foothills of the Jura Alps to the Jan Michalski Foundation in Montricher. The institute was named for the founding poet and devoted to European poetry and literature. This airy architectural wonder of concrete and wood includes a beautiful library arrayed around several stories of an open central shaft. The organizers had curated a special, in-depth Nabokov exhibition to commemorate our meeting, including some cases of his Alpine specimens. The recognized world leader of Nabokov studies, Brian Boyd, from Auckland, author of definitive books on Ada, Pale Fire, and Lolita, as well as a leading Shakespeare scholar, gave his captivating keynote after dinner in the fine auditorium. "The Writing of Nature and the Nature of Writing" elegantly showed how, for Nabokov, there was no real line separating humans and the rest of nature—one of my own deepest convictions.
My own keynote came at the end of the final session the next day at the university. First, Brian joined me to give away a copy of our big heavy book that I had schlepped all the way from home—the only copy in the world of the regular edition signed by both of us. (Together, with his leadership, we had co-authored and annotated Nabokov's Butterflies, our giant five-year project that brought a fan letter from Patti Smith.) A perfect person won it, a young woman named Anouschka, who really wanted it. Then Brian made my introduction, which was extremely kind. Recalling the near miss of my getting there at all, he teared up, and then of course I did too. Some folks said that was their favorite moment, the two silverbacks up there bawling together. My topic was "Of Pugs, Satyrs, and Blues: Nabokov's New Lepidoptera and How They Could Save the World." My text was written for delivery, and the powerpoint of the butterflies worked well, including the embedded MP3s of two poems read by Nabokov in English and Russian (thanks Leo & Boris!). I'd worked hard on it and it seemed well received. I've seldom felt so honored or fulfilled, and I was so happy that we had come.
I had the onus of fifteen talks before me that day and the banquet afterward, so I couldn't dawdle even more than I did. As the saying goes, "we may wait for the risotto, but the risotto waits for no one." Served in a hollowed out round of Gruyere, it was very popular, so I guess we got to it in time. The Swiss wines, lagers, and French-influenced dishes, good throughout, made for a memorable banquet, as did young John Burroughs/Nabokov scholar Kathryn Haydon standing on a chair and reciting from memory the entire First Canto of character John Shade's poem from VN's masterpiece Pale Fire. Back in the hotel snug that night, Brian and I shared more wine and a tete-a-tete for a good long while about many matters, Nabokovian and otherwise: maybe my favorite single memory of a trip that held many of them. You don't work that hard on a book with someone without a lot of respect, and to then find a great mutual affection is a wonderful bonus. Brian's wife Bronwen was equally delightful.
We didn't get to see much natural history, though the campus was expansive, on an old farm, and wonderfully vegetated. The only butterflies I spotted were cabbage whites and one mourning cloak, and birds were similarly subtle. But the high point was the four AM "blackbird singing at the break of dawn" outside our hotel window. The European BB is just like a melanic American robin, but its song is richer, more melodic, and much more mimetic. I got up each morning to listen at the balcony for a while before returning to sleep. And then on the third night, up earlier, I was astonished to see fireflies flashing in a couple of spots near our garden! They have declined so much near cities that I find it remarkable they are persisting in the middle of Lausanne. They were a special bonus, as I love lightning bugs excessively and miss them here.
The day following the conclusion, some of the participants took a field trip up the cog railway from Montreux to the Rocher de Naye in the true alpine, and enjoyed a hike on the flowered meadows to crags and snow caves. They actually saw some of Nabokov's blues and alpines before the clouds closed in, and I was keenly envious (JoAnne and I hiked in such Swiss meadows back in '68). But I could never have kept up, period. So we reluctantly gave it a pass, and took the train back to Geneva instead. Leaving Lausanne, there were some minutes of sheer terror when I (no more wheelchair) left my bag with passport, money, and my journal on a bench outside the station. But Florence sprinted back and recovered it, placed in a safe spot by some nice Swiss. Then, once we had managed the vast station, we could relax and watch the vineyards and lakeshore roll by.
In Geneva we checked into the nice East-West Hotel and I rested up while Florence walked and shopped, coming back with a small handsome Tissot watch. Dinner (one item on the menu: entrecote steak and a secret garlic butter sauce) was at the Café de Paris, where Florence had dined sixty years ago while a student in Geneva! We made friends with a Haitian-American couple at the next table, Veronique and Thony. Afterward we walked back to the hotel, slowly, me with my trusty stick, along the waterfront with its very old lake-boats and abutting ancient parks and buildings. Then, finally adjusted to the jet lag, we slept our final night in Europe.
Of the next day, the less said the better. Not bad GEN-JFK, except the 767s seats were made of rocks. But JFK was a hellhole, with two planes trying to get out of our gate at once, vying to see which crew would assemble first.- When we finally boarded, having been delayed at an overcrowded gate for two hours, the final joke awaited: the window seat I had chosen months in advance—in the new model 737—has no window at all in that one position! And the seats do not recline an inch. And are made out of still harder rocks. But a nice room awaited us at PDX, and by one a.m. we finally slept the sleep of the deserving. We cruised home by three next day to Florence's very happy doggie, Luca Brown.
So we did it, and I am so glad we did, and so grateful to Florence who made it possible, to Boris and Leo and all the other colleagues and new friends who helped me in many ways, and to Marie, Julie, Agnes and the other organizers who invited me, urged me to try, and made it all work out. As I said at the end of my talk: Merci Beaucoup, GrazieMille, DankeSchoen, Bol'schoye Spasiba, and Thankyewverymuch,maam.
Bob, July 16, 2023
<![if !vml]>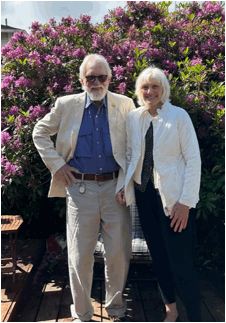 <![endif]>